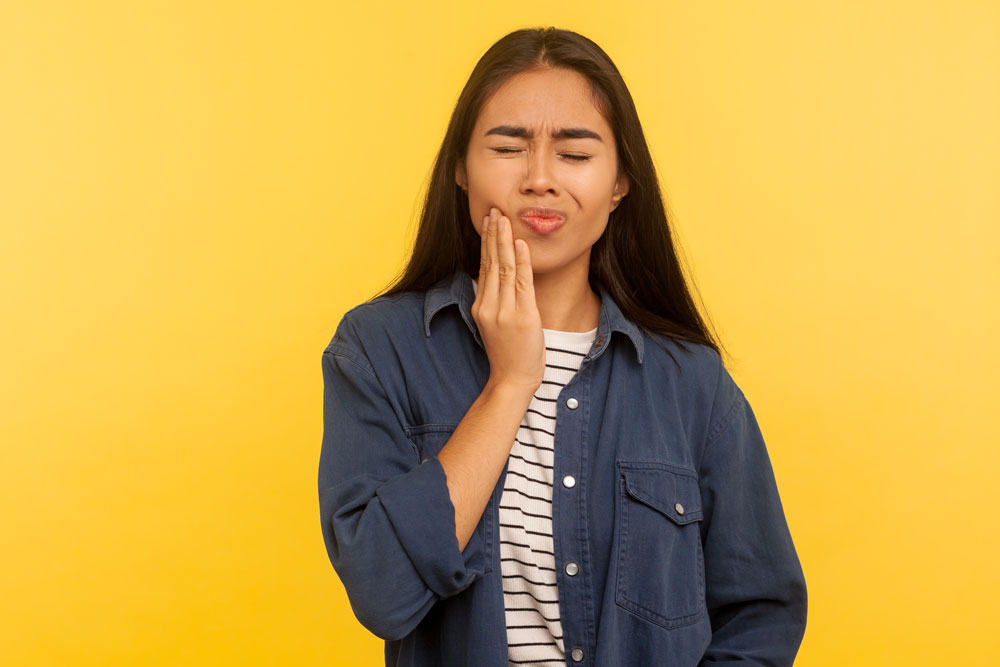 August 16
How to Treat Tooth Sensitivity?
Having healthy teeth is the most essential factor for healthy life functions. Because the disruption of chewing function or the inability to perform eating and drinking activities in a comfortable way negatively affects all systems in the body, especially the digestive system. It also reduces the comfort of daily living. Tooth sensitivity is one of the dental diseases that reduces the comfort of daily life.
What is Tooth Sensitivity?
Hypersensitivity of the teeth can be defined as tooth sensitivity. It is one of the most common dental conditions, also known as root sensitivity. Pain felt in a single tooth or in many teeth during the consumption of hot, cold, sweet or acidic foods and beverages is a sign of tooth sensitivity. This pain felt is local, sharp and short-lived. However, it is a very disturbing situation for people.
Sensitivity problems in teeth are more common in women than in men. The period when this problem is most severe is between the ages of 30 and 40.
What are the Causes of Tooth Sensitivity?
Tooth sensitivity occurs as a result of gum recession in the presence of gum disease or due to traumatic habits such as hard brushing. It occurs in two different ways:
Sensitivity in tooth roots
Sensitivity in dental crowns
The causes of sensitivity in the roots of the teeth are as follows:
Root erosion due to hard brushing
The causes of sensitivity in dental crowns are as follows:
Hard brushing
Using a hard toothbrush
Teeth grinding habit
Misuse of oral care products such as toothpicks
Use of abrasive toothpaste
Acidic food consumption
Treatment of Tooth Sensitivity
In order to determine the cause of tooth sensitivity, you must first be examined by the dentist.
In order to be treated, the dentist recommends using a toothpaste with low abrasive particles and desensitizing content specially produced for sensitive teeth.
If your complaints do not decrease as a result of using these products;
The dentist can apply a specially formulated fluoride gel to make teeth less sensitive and provide extra protection against decay and other agents to micro-repair worn areas.
Advice for Tooth Sensitivity
For the treatment of sensitivity in teeth, you can do the following:
Use Desensitizing Toothpastes
These toothpastes contain substances that reduce sensitivity by filling the channels in the dentin. Therefore, they are very effective in reducing the problem of tooth sensitivity.
Before going to bed, you can apply the toothpaste to the sensitive area with the help of your finger or a small cotton cloth. You should also take care not to wet the toothpaste while brushing your teeth. Toothpaste will work best when it foams with your saliva.
Try Fluoride-Containing Mouthwashes
Especially if you have a caries problem, mouthwashes are very effective in reducing your tooth sensitivity.
You can use mouthwash once or twice a day. After rinsing your mouth with mouthwash for 1 minute, spit out and take care not to eat or drink anything for at least 30 minutes. Also, do not rinse your mouth with water after spitting out the mouthwash.
Keep Your Teeth Clean To Prevent Tooth Sensitivity
White adherent substances formed on the teeth; that is, plaques produce an acid that disturbs the teeth. For this reason, you should brush your teeth regularly at least twice a day and prevent the formation of plaque. At the same time, the use of dental floss is another method of cleaning teeth that effectively prevents the formation of plaque.
Brushing your teeth after cleaning the food residues between your teeth with dental floss will give the most effective result.
The most common cause of tooth sensitivity is damage to the protective tooth enamel as a result of using a hard toothbrush. For this reason, you should prefer soft-bristled toothbrushes. You should also avoid brushing your teeth hard.