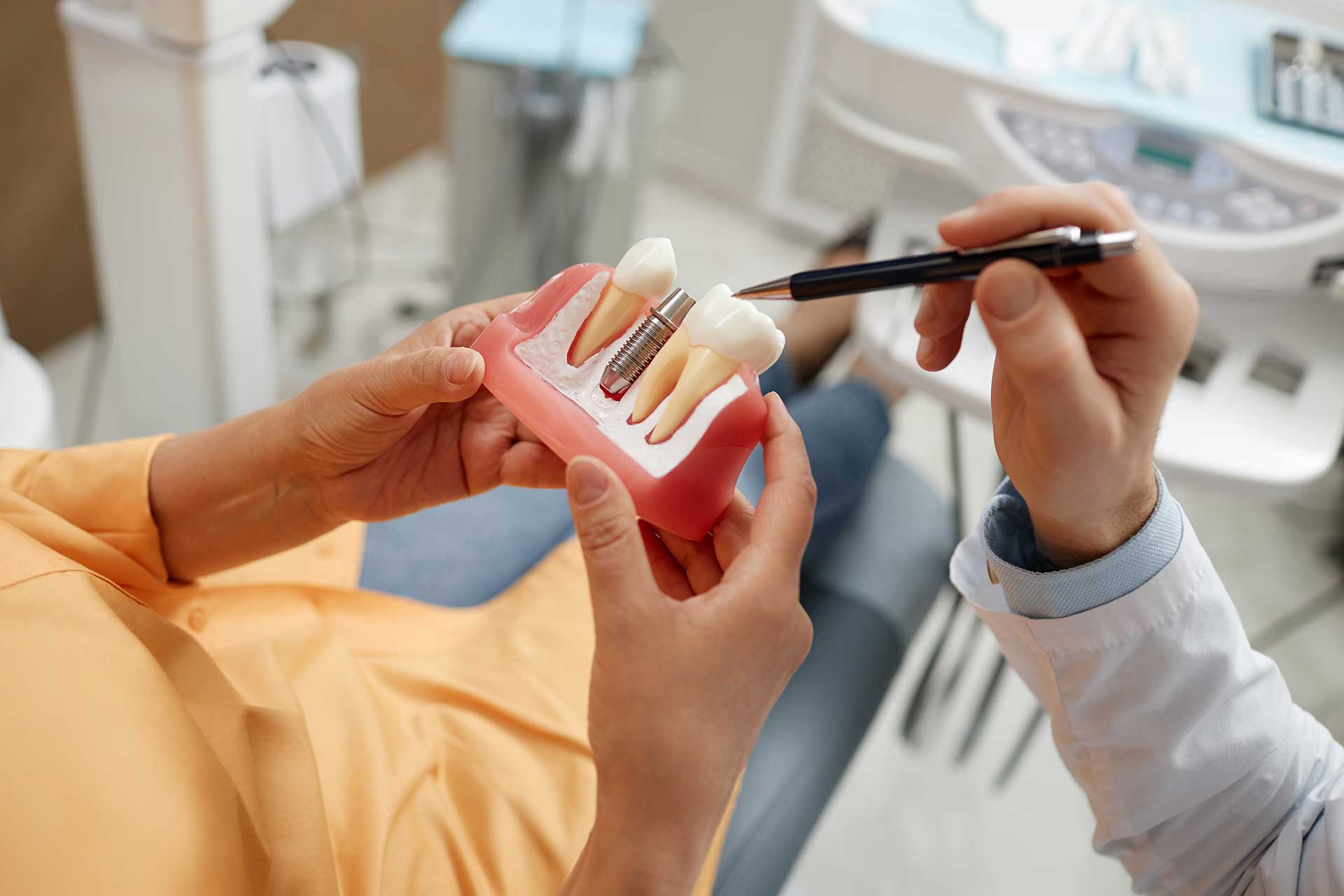 November 21
Dental Implants - Costs and Perks
A captivating smile and robust dental health are paramount for our overall well-being and self-assuredness. Regrettably, tooth loss or damage can be a stumbling block on the path to achieving these aspirations. Fortunately, the modern realm of dental medicine offers a potent and enduring solution to address these concerns – the dental implant.
Explore the Dental Implants
A dental implant is a sophisticated surgical procedure employed to replace missing teeth or mend damaged ones. In essence, it functions as an artificial tooth root, seamlessly replacing the role of a natural tooth root.
This dental marvel takes the form of a titanium or titanium alloy screw or post, which is deftly inserted into the jawbone. The implant fuses harmoniously with the bone, culminating in the placement of a crown, constructed from porcelain or another tooth-like material.
Indications for Dental Implants
Implant treatment is a versatile method, aptly suited for a spectrum of cases including:
Single Tooth Deficiency: In cases where the bone structure in the implant area is conducive, a dental crown can be affixed atop the implant, seamlessly replacing the missing tooth.
Complete or Partial Edentulism: In instances where more than one tooth is absent, implants can be harnessed to craft fixed or removable prostheses.
Jaw and Facial Defects: Implants are an invaluable resource in the restoration of defects in the jaw and facial regions, restoring both form and function.
Alveolar Resorption: Over time, tooth loss can trigger bone resorption in the jaw, compromising the structural integrity. In such cases, bone grafting may be a prerequisite before implant placement.
Preference for Fixed Solutions: Implants are the epitome of comfort and convenience, making them the preference of choice for patients who eschew removable dentures.
Dental Implants Avantages
Dental implants are more than just a replacement for missing teeth; they offer a wide range of advantages that make them a popular choice among patients:
Natural Look and Feel: Dental implants seamlessly mimic the appearance and tactile sensations of natural teeth, affording you a smile that is indistinguishable from your original dentition.
Permanence: With diligent care, dental implants can grace your smile for a lifetime, a remarkable contrast to other restoration options that require frequent replacements.
Jawbone Preservation: Dental implants thwart or minimize bone loss by exerting pressure on the jawbone. Conversely, alternative solutions may trigger bone resorption.
Comfort and Functionality: Implants facilitate comfortable chewing and confident speech, an attribute that occasionally eludes dentures or bridges, which may engender discomfort.
Neighboring Tooth Conservation: Dental implants offer the opportunity to replace a missing tooth without encroaching upon the health and integrity of adjacent teeth.
Simplicity in Maintenance: Dental implants demand no special maintenance rituals; they can be cared for via regular brushing and flossing, akin to the care bestowed upon natural teeth.
Learn the Dental Implant Costs
The price of a dental implant is contingent upon a multifaceted tapestry of factors, often unique to each individual. Some of the elements that influence implant costs encompass:
Number of Teeth: The number of teeth to be replaced is a pivotal factor in determining the total cost. Each dental implant incurs an associated expense.
Jaw Condition: The quality and quantity of the jawbone wield an influence over the intricacy of the surgical procedure needed to accommodate the implant.
Prosthesis Type: The type of prosthesis, whether it is fixed or removable, significantly impacts costs. For instance, replacing a single tooth with removable dentures or bridges is a cost-effective alternative.
Geographical Location: The geographical location of your chosen dental clinic can influence implant costs. Clinics situated in major cities often carry a higher price tag.
Dentist's Expertise: An experienced dentist may command a higher fee, reflecting their proficiency and expertise.
Medications and Anesthesia: The medications and anesthesia administered during the surgical procedure can augment the overall cost.
Implant Material: The quality and type of material employed in the implant itself play a role in cost determination.
If you're considering dental implants, it's essential to consult with a qualified dentist to discuss your specific needs and costs associated with your treatment plan. At Dentevim, we are dedicated to helping you regain your confident smile and oral function through dental implants. Our experienced team will work with you to explore your options, address any concerns, and provide a personalized treatment plan that aligns with your unique needs and budget. Don't let the costs deter you from experiencing the life-changing perks of dental implants – the investment in your oral health is an investment in your future well-being.