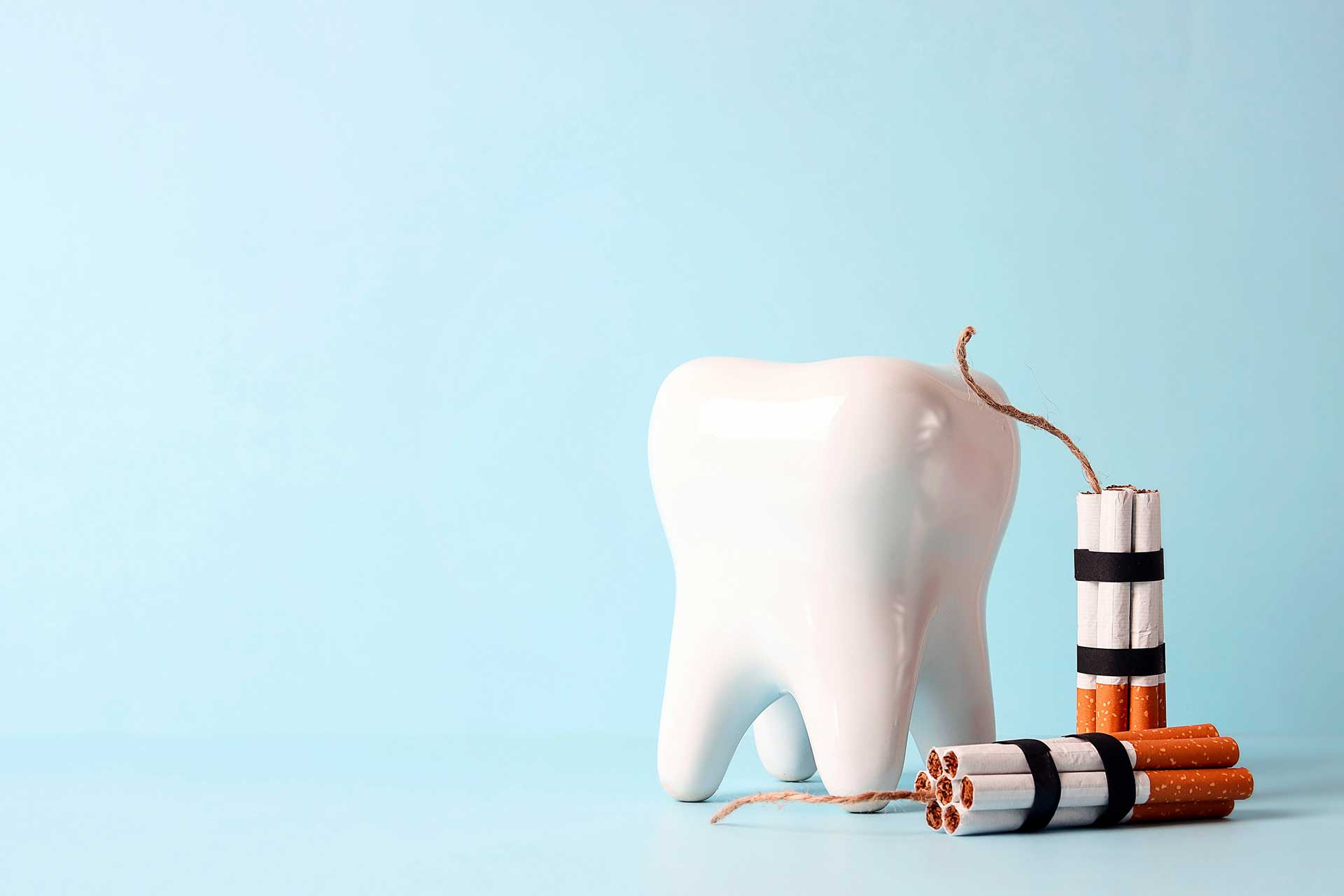 September 5
The Role of Smoking in Oral and Dental Health
Oral and dental health is an important part of general health and is an important issue that affects the quality of life. A subject of profound importance that we unravel here is the profound impact of smoking on oral health. Delving into the depths of this relationship is key to making informed choices about your dental care journey. Welcome to a comprehensive exploration of how smoking, a seemingly distant habit, profoundly influences the realm of your teeth and gums.
Smoking's Multifaceted Assault on Oral and Dental Health
Teeth Discoloration and Aesthetic Deterioration: The allure of a bright smile can be eroded by smoking, a potent catalyst for tooth discoloration. The nicotine and tar contained within cigarette smoke insidiously latch onto the tooth enamel, culminating in unsightly yellow and brown stains. This aesthetic downfall can significantly impact your confidence and satisfaction with your smile.
Gum Diseases: Smokers unwittingly elevate their susceptibility to gum diseases like gingivitis and periodontitis. The chemical concoction of cigarette smoke provokes irritation in the gums, opening the door for infections to take root. Common symptoms, including inflamed, reddened gums and persistent halitosis, become frequent companions for smokers.
The Unsettling Risk of Tooth Loss: Smoking casts a dark shadow over the prospect of tooth retention. As gum diseases flourish, the very foundation of teeth – the supporting bone – undergoes steady erosion. This degradation results in unstable teeth that may eventually face expulsion. Over the long haul, smoking weakens tooth roots, paving the way for tooth loss.
Looming Threat of Mouth Cancer: Among the many risks smoking poses, one of the most ominous is its strong association with oral cancer. Carcinogens embedded within cigarette smoke inflict severe harm on oral tissues, sparking the transformation of cells into cancerous entities. Oral cancer, a life-threatening affliction, poses formidable challenges in treatment and recovery.
Healing Hurdles and Prolonged Recovery: The aftermath of dental procedures such as extractions or implants becomes considerably thornier for smokers. The healing process languishes, leaving wounds vulnerable to infection. The imperative of quitting smoking gains prominence as a strategic move before undergoing any dental treatment.
The Lingering Ghost of Bad Breath: The acrid remnants of cigarette smoke linger in the mouth, leading to persistent bad breath that can deter social interactions and diminish self-assurance.
Considering the negative effects of smoking on oral and dental health, the importance of quitting smoking is clear. It is necessary to quit smoking to reduce the risk of dental and gum diseases, to maintain the aesthetic appearance of the teeth, and to protect against serious diseases such as oral cancer.
Safeguarding Your Smile: The Quest for Smoke-Free Oral Health
Quitting Smoking: The most effective step for oral and dental health is to quit smoking completely. Quitting smoking is critical for maintaining the color of teeth, preventing gum disease, and reducing the risk of oral cancer.
Regular Dental Check-ups: Commitment to consistent dental check-ups empowers smokers to nip potential problems in the bud. Early detection and intervention by dental professionals can halt issues in their tracks.
Pristine Dental Hygiene: The cornerstone of dental care for smokers lies in meticulous oral hygiene practices. Regular brushing and flossing emerge as potent weapons against potential gum diseases.
Fueling With Nutrient-Rich Foods: Opting for a nutrient-dense diet is paramount for nurturing oral and dental health. Smokers can make a proactive choice by favoring foods enriched with vital nutrients like vitamin C and calcium.
Battling Stress for Healthier Choices: Acknowledging the interplay between smoking and stress is pivotal. Implementing stress management techniques can effectively curb the urge to smoke, contributing to improved oral and dental well-being.
These measures play an important role in reducing the effects of smoking on oral and dental health. However, the most effective and definitive solution is to quit smoking completely. Quitting smoking will positively affect both oral and dental health and general health and improve quality of life.
With an unwavering dedication to providing optimal dental care and fostering smoke-free lives, Dentevim urges you to embark on a voyage toward healthier gums, brighter teeth, and enhanced overall well-being. As you prioritize your oral health today, you're sowing the seeds for a future defined by radiant smiles and enduring wellness.