March 15
What is Dental Tartar? How to Clean it?
Dental tartar is the name given to the hard structures, called dental calculus, that form on the teeth due to individuals not regularly performing oral hygiene. If there is a hard, rough structure under your teeth, tartar may have formed on your teeth. Dental professionals should be consulted for the cleaning of dental tartar. Otherwise, dental calculus will harm oral health.
What Causes Dental Tartar?
Dental plaque that forms on the teeth due to various reasons results in dental tartar in later periods when not cleaned. The causes of dental calculus are as follows:
Dental plaques are made up of acids that accumulate between the teeth or gums as a result of the accumulation of saliva, bacteria and food particles.
Excessive consumption of sugar and carbohydrates can accelerate tartar formation.
Dental calculus is made up of dead bacteria that have turned into minerals and proteins present in saliva.
Irregular brushing of teeth is the most important cause of tartar formation.
How to Recognize the Presence of Dental Tartar?
The symptoms of dental tartar are as follows:
Excessive pain or tenderness while brushing teeth
Receding gums
Hard formations around the teeth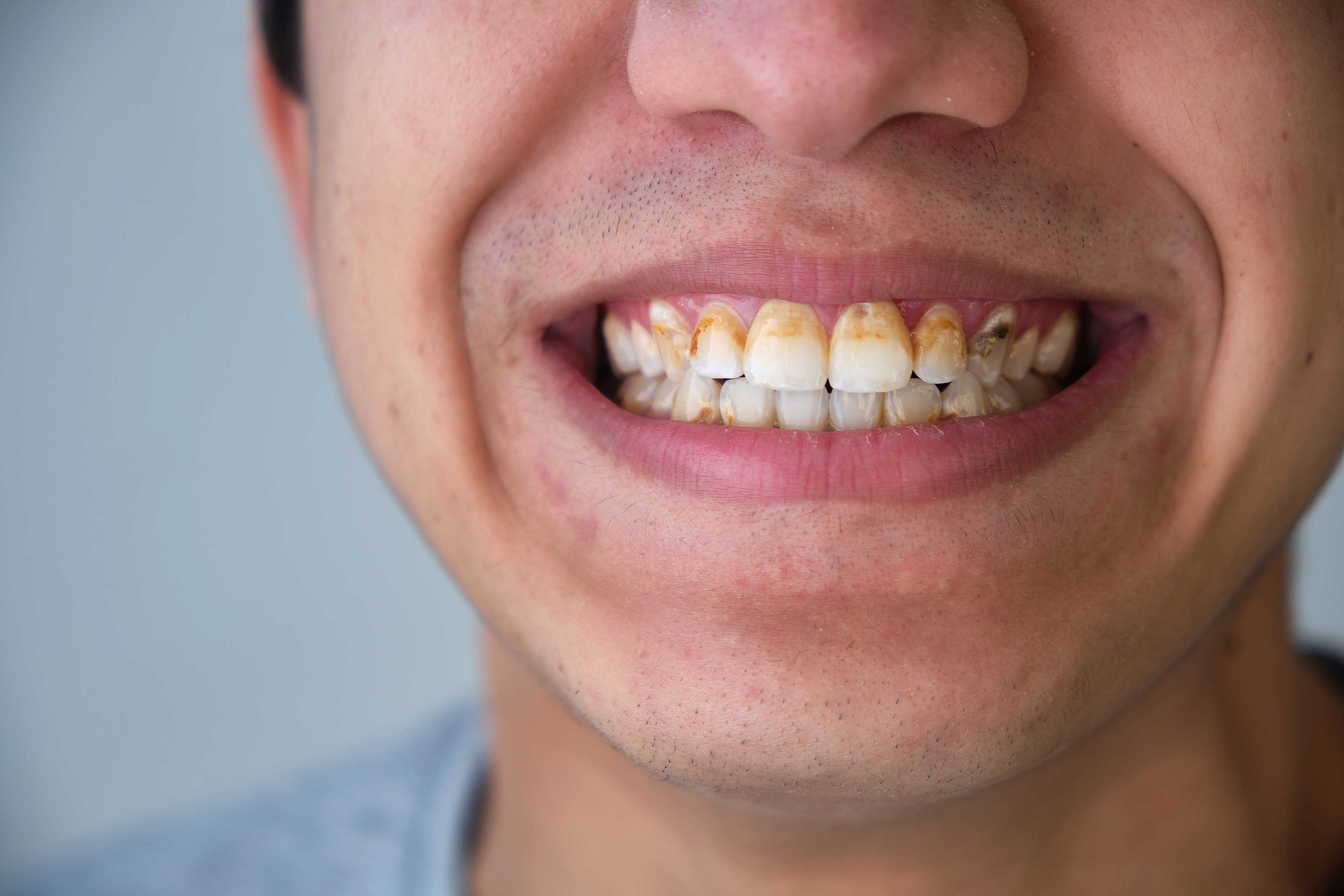 What are the Dangers of Dental Tartar?
Dental calculus formation has different effects on the teeth and gums. These are as follows:
Bad breath
Loose teeth
Tooth decay
Damage to the jawbone
Bleeding gums
Gum recession
Sensitivity to hot and cold foods
Who is Prone to Dental Tartar Formation?
People who are more prone to dental calculus are as follows:
People with dry mouth due to aging and medication use
Those who cannot maintain their oral hygiene routine
People who do not clean their teeth well
Smokers
People who have received radiation therapy in the head and neck area
People who consume a lot of sugary and starchy foods and drinks
How to Prevent Dental Tartar Formation?
Things you can do to prevent dental calculus formation are as follows:
You should clean your mouth and teeth regularly and correctly.
You should visit the dentist for a check-up every 6 months.
Teeth should be brushed for at least 2 minutes, 2-3 times a day.
You should avoid food and drinks that contain excessive amounts of sugar.
When brushing your teeth, you should clean not only the surface of the teeth but also the back of the teeth carefully.
You should clean the areas that toothbrushes cannot reach with dental floss.
Don't forget to brush your tongue to reduce the bacterial load in your mouth.
You should reduce or even quit smoking and alcohol consumption as much as possible.
You should minimize the consumption of carbonated food and drinks.
Accumulated dental tartar can cause inflammation in tissues, receding gums and bone loss around the teeth. These gum diseases are often painless and the patient may not notice this tissue damage until the teeth start to loosen. If the extent of bone loss is detected at a certain level, the teeth can be kept in the mouth with gum treatment. However, lost bone tissue does not grow back. If the damage is not noticed, it can lead to the loss of one or more teeth. Therefore, dental scaling should be done regularly.
How is Dental Scaling Done?
Cleaning of plaque and tartar that occur on your teeth due to various reasons is performed by dentists. There is a possibility that the applications you will do at home for dental scaling may harm your teeth and gums. Therefore, you must consult a dentist for dental scaling.
How Often Should Dental Scaling be Done?
Your dentist will decide how often dental scaling should be done. Experts recommend scaling every 6 months in cases where there is gum disease or risk (smoking, diabetes, etc.). If your mouth and saliva are prone to plaque and tartar formation, more frequent check-ups and dental cleaning can be done.