May 24
Which Teeth Whitening Method is More Suitable for You?
Teeth whitening can be performed by dentists as well as with products used at home. The procedure yields different results depending on the sensitivity of the teeth, the intensity of the stains and the method used. Therefore, it is recommended that the person undergoing the procedure should be checked for dental health beforehand.
What is Teeth Whitening?
Teeth whitening is a cosmetic procedure performed to restore teeth to their natural white color or to achieve a whiter shade. This process helps to reduce or eliminate stains, yellowing or discoloration on teeth, resulting in a whiter appearance.
What are Teeth Whitening Methods?
The whitening methods are as follows:
Office type whitening procedure performed by a dentist: This procedure is performed by dentists in their clinics. A special whitening solution is applied to the teeth, which is activated by a special light or laser.
Home whitening products: Whitening products prescribed by a dentist or purchased from pharmacies can be used at home. These products can be in the form of a gel or a teeth mouthguard and usually help whiten teeth over a few weeks.
Dental veneers performed by a dentist: In this procedure, special veneers are placed on the teeth. The veneers cover the problematic areas that change the color of the teeth by covering the front surfaces of the teeth. This method is performed at the patient's request when other whitening methods do not work.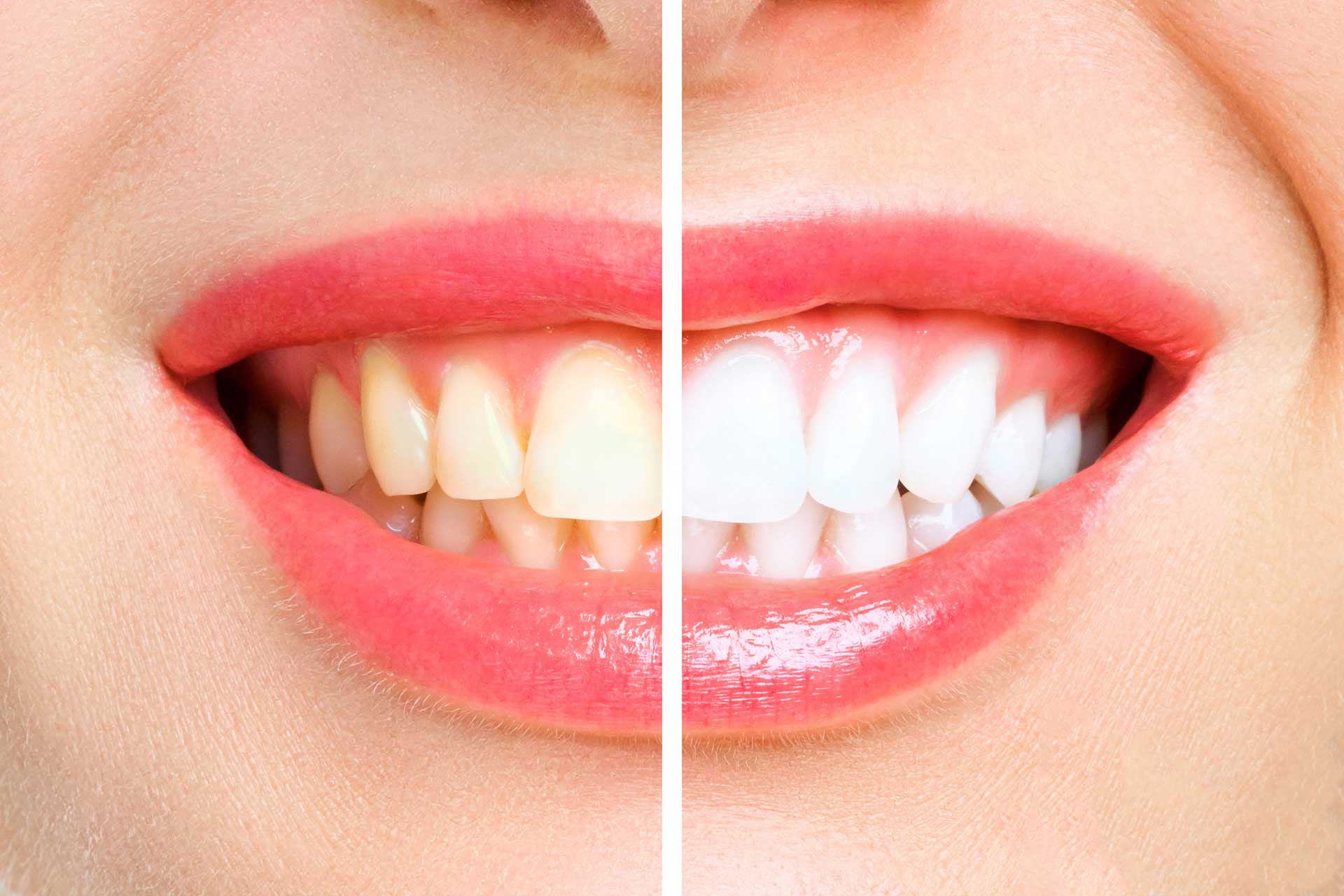 How is Office Type Whitening Done?
Office type teeth whitening procedure is performed by a dentist in a clinical setting. The application stages are as follows:
Cleaning of the teeth: The dentist prepares your teeth for the whitening process by cleaning them. This process includes applications such as cleaning tartar and plaque.
Measuring the teeth: The dentist measures your teeth and determines the color tone to establish a starting point. This is used as a reference point to measure how much your teeth have whitened at the end of the whitening process.
Protection of teeth: The dentist applies protection to your teeth, such as a special barrier or gel, to protect your gums and oral tissues.
Application of the whitening solution: The dentist applies a special whitening solution to your teeth.
Activation of the solution: The whitening solution is activated using a special light or laser.
Cleaning the whitening solution: The solution is removed from your teeth after the procedure is complete.
Who Can Have Office Type Whitening?
Office type whitening can generally be applied to individuals who have noticeable color changes or stains on their teeth, good dental health and no serious problems with their teeth.
The office type whitening procedure is suitable for individuals who are unhappy with the color of their teeth, especially due to the following reasons:
Discoloration of teeth due to consumption of food and drinks such as caffeine, cigarettes, tea or red wine
Natural discoloration in tooth enamel
Changes in tooth color due to aging
How to Do Home Teeth Whitening?
Home teeth whitening is a process that you can do at home using a custom mouthguard and gel prepared by your dentist. The process consists of the following steps:
Cleaning your teeth: Your dentist will recommend that you clean your teeth before the whitening process.
Preparing the mouthguard: Your dentist will create a custom whitening mouthguard for you by taking measurements of your teeth. This preparation is important to ensure that the mouthguard fits snugly over your teeth and the whitening gel is evenly spread over all of your teeth.
Applying the whitening gel: Your dentist will provide you with a special whitening gel and you will place the gel inside the mouthguard. Your dentist will give you instructions to ensure that the gel is used in the right amount and the mouthguard is placed correctly.
Waiting for a specified time: After the whitening gel is placed in the mouthguard, the mouthguard needs to be left in your mouth for a specific amount of time. Your dentist will tell you how long to leave the mouthguard in and at what times of day to wear it.
Removing the mouthguard and cleaning your mouth: The mouthguard should be removed after the designated time is up. Afterwards, you should rinse your mouth with water.
Who is Home Teeth Whitening Suitable For?
Home teeth whitening is suitable for individuals with discoloration or staining on their teeth.
However, it should be noted that teeth whitening may not be suitable for everyone. Individuals with extreme sensitivity, gum problems or cavities should first consult with their dentist to have their dental health checked. Additionally, teeth whitening is not recommended during pregnancy.