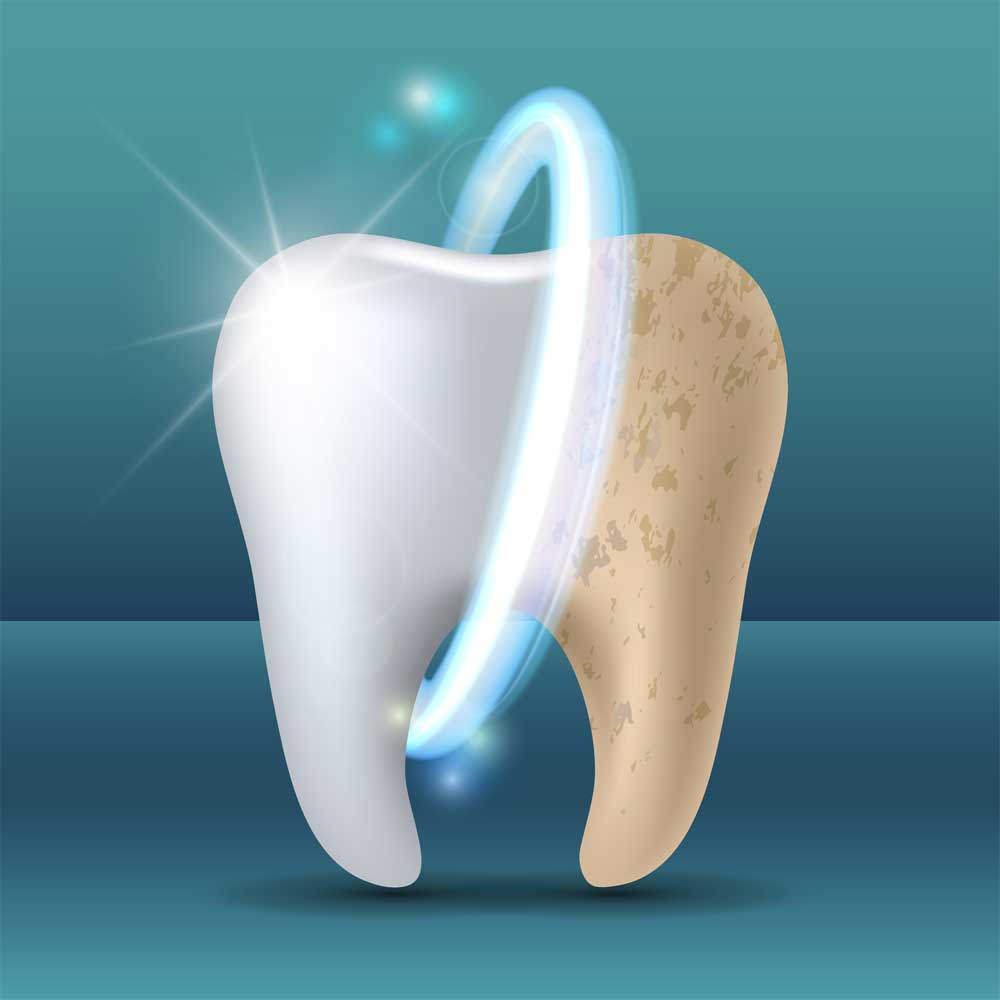 July 21
Causes And Solutions Of Tooth Stain
Teeth discoloration and tooth stains are common conditions faced by most people. You can find the causes of the tooth stain problem that develops due to various reasons in our article on the methods of cleaning the teeth stain.
What is Tooth Stain?
Tooth stain can be defined as the color changes that occur in the teeth or the dark spots that appear locally on the teeth. It can occur due to many reasons.
Teeth stain removal treatment is a fairly easy treatment. For this reason, you should make a dentist appointment without resorting to any method you can apply yourself at home. Because there is a possibility of damaging your teeth for cleaning teeth stains at home.
What Are the Types of Tooth Stains?
The types of tooth stains are as follows:
External: Extrinsic tooth discoloration only affects the enamel or the surface of the tooth. It is caused by habits such as consumed foods, drinks and tobacco.
Internal: This type of stain is located inside the tooth. They usually have a grayish texture. It develops depending on the drugs used, dental caries and genetic reasons.
What are the Causes of Stains on the Teeth?
The factors that cause tooth staining are as follows:
Aging: As you get older, the enamel on your teeth begins to wear away and this often causes a yellow appearance. Most often, age-related discoloration is due to both extrinsic and intrinsic factors.
Food, beverages and tobacco: Some types of food and drink settle on the outer layers of the tooth and cause staining on the teeth. Especially tea, coffee, red sauces, alcohol and chocolate are the main causes of staining on the teeth. For this reason, teeth should be brushed and necessary oral care should be done after these foods and beverages are consumed. Otherwise, over time, it can cause the teeth to lose their color and start staining.
Caries and drugs: Some antibiotic drugs can also cause changes in the color of the teeth. Caries occur in several different stages. Some of these stages can cause white or brown spots on the teeth.
You can click here to get detailed information about tooth decay and the stages of tooth decay.
How to Prevent Teeth Stain?
The methods you can apply to prevent the stain problem are as follows:
Taking care of oral hygiene
Brushing teeth at least twice a day is very important for oral and dental health. At this point, you should choose the right toothbrush and toothpaste for you. It is always best to have soft bristles on your toothbrush. Because hard-bristled toothbrushes can damage your teeth over time.
Cleaning teeth after consumption of pigmented or harmful food and drink
Foods containing red color and sugar are one of the biggest causes of tooth staining. For this reason, you should brush your teeth and floss after consuming these foods and beverages. If you can't, you should definitely rinse your mouth.
For detailed information about foods that harm teeth, click here.
You can try limiting your consumption of foods and beverages that stain your teeth. If you also use tobacco and tobacco products, you may want to consider quitting.
Visiting a dentist regularly
Regular dental examination is one of the most important elements in terms of oral and dental health. Because detecting and treating any problem that may occur in the teeth at an early stage will prevent other problems that may occur in the future.
If the stains on your teeth continue to occur despite paying attention to their hygiene, you should definitely see a dentist.
There are 3 different methods for tooth stain removal treatment. These;