October 3
How to Teach Your Child to Brush Their Teeth
As soon as children's first teeth come out, it's time to start the daily brushing habit. Because teeth are vulnerable to decay as they erupt or grow. Baby teeth keep your child's jaw straight, create space for adolescent teeth, and play an important role in your child's chewing, laughing, and speaking. For this reason, with the right brushing training, your child's daily brushing habit at an early age helps to support good oral health that will last a lifetime.
When to Start Brushing Tooth?
Good oral hygiene should start at an early age. In this way, it is possible to protect oral and dental health.
You can clean your baby's mouth after each feeding. You can do this by holding your baby's head with one hand and wiping the baby's mouth with a clean wet gauze, wet cloth or xylitol cloth with your free hand. After your child's back teeth come out, you can start brushing. Therefore, the answer to the question of when to start brushing teeth is after the back teeth have erupted.
When should children be given tooth brushing training?
The sooner the brushing training be given to children, the better it will affect their health. Because the earlier the child acquires the habit of brushing teeth, the easier it will be for a long time.
The right time to start brushing training is when babies' back teeth come out. You can start brushing your baby's teeth as soon as the back teeth start to emerge. Over time, the act of brushing teeth becomes an activity that the baby enjoys. Therefore, it is very important to do it without interruption.
Brushing the baby's teeth is actually a part of the brushing training. It is also the most important rule for healthy teeth.
Tooth brushing training should be given as soon as your child can start brushing his own teeth and he should gain the habit of brushing teeth. In this process, your behavior and tooth brushing habits are also of great importance.
How to Choose a Toothbrush for Children?
Toothbrushes made of soft and nylon bristles, suitable for your child's mouth size, will be the best choice you will make.
How Many Times Should My Child Brush Their Teeth A Day?
An effective brushing process after breakfast and before going to bed at night will be sufficient.
What Is The Correct Tooth Brushing Technique?
A time of 2 minutes, ie 120 seconds, has been determined for the correct tooth brushing time. The gum line and the back of the teeth should also be brushed. Short and gentle movements should be used when brushing. Correct brushing technique is very important for tooth brushing training.
Tooth brushing technique should be as follows:
Brushing should be started with the outer surface of the upper teeth. Then the outer surface of the lower teeth should be passed.
After the outer surface is thoroughly cleaned, the inner surface should be cleaned. Therefore, first the outer surface and then the inner surface should be brushed.
Then the chewing surface cleaning should begin. Care should be taken to clean the upper surfaces of all teeth.
To ensure complete oral and dental hygiene, the tongue should be brushed during each tooth brushing.
Tooth surfaces should be brushed from the gum to the tooth. While doing this, the brush should be held at an angle of 45 degrees.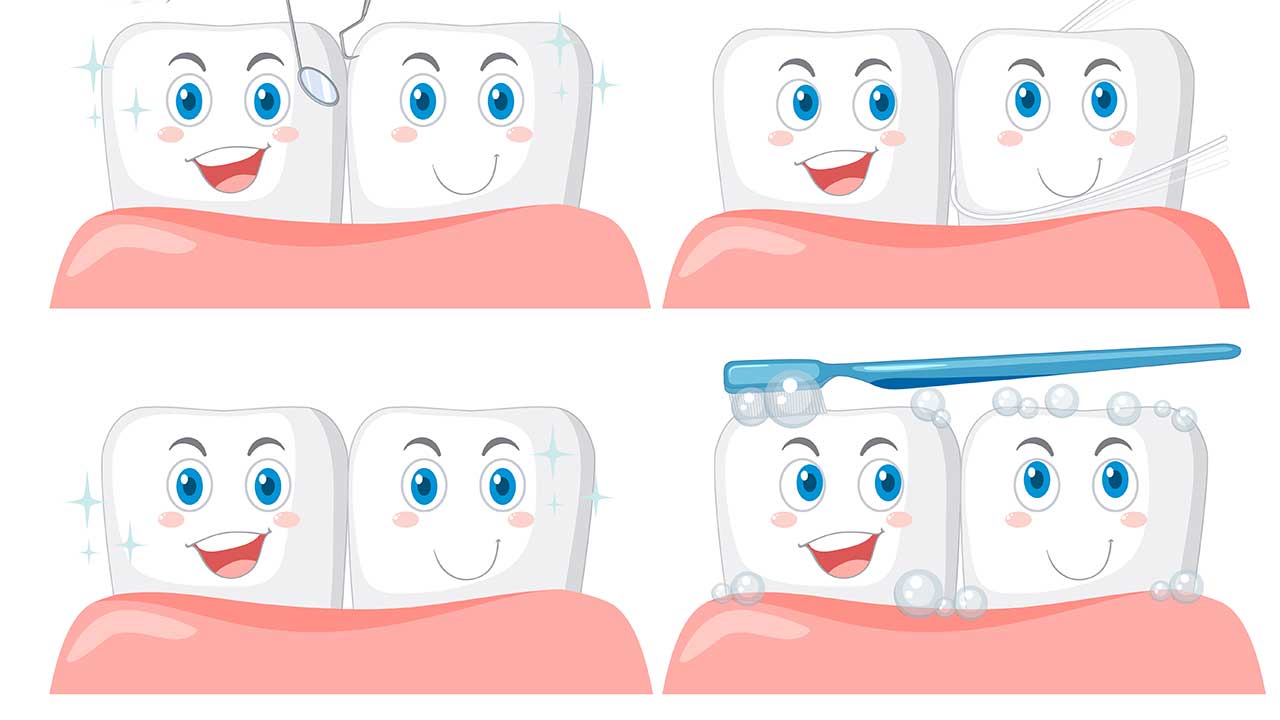 Suggestions for Kids to Love Brushing Tutorials
Here are some things you can do to encourage children to be enthusiastic about brushing training:
Children should definitely be appreciated after brushing their teeth during the habituation process.
Children tend to do what they see from their parents. Therefore, you can brush your teeth with your child.
Having the toothbrush in the colors and patterns that the child likes allows him/her to see it as a game.
You can ask your child to brush their doll's teeth. This situation strengthens the perception that tooth brushing is necessary in children.
You can create a toothbrushing board.