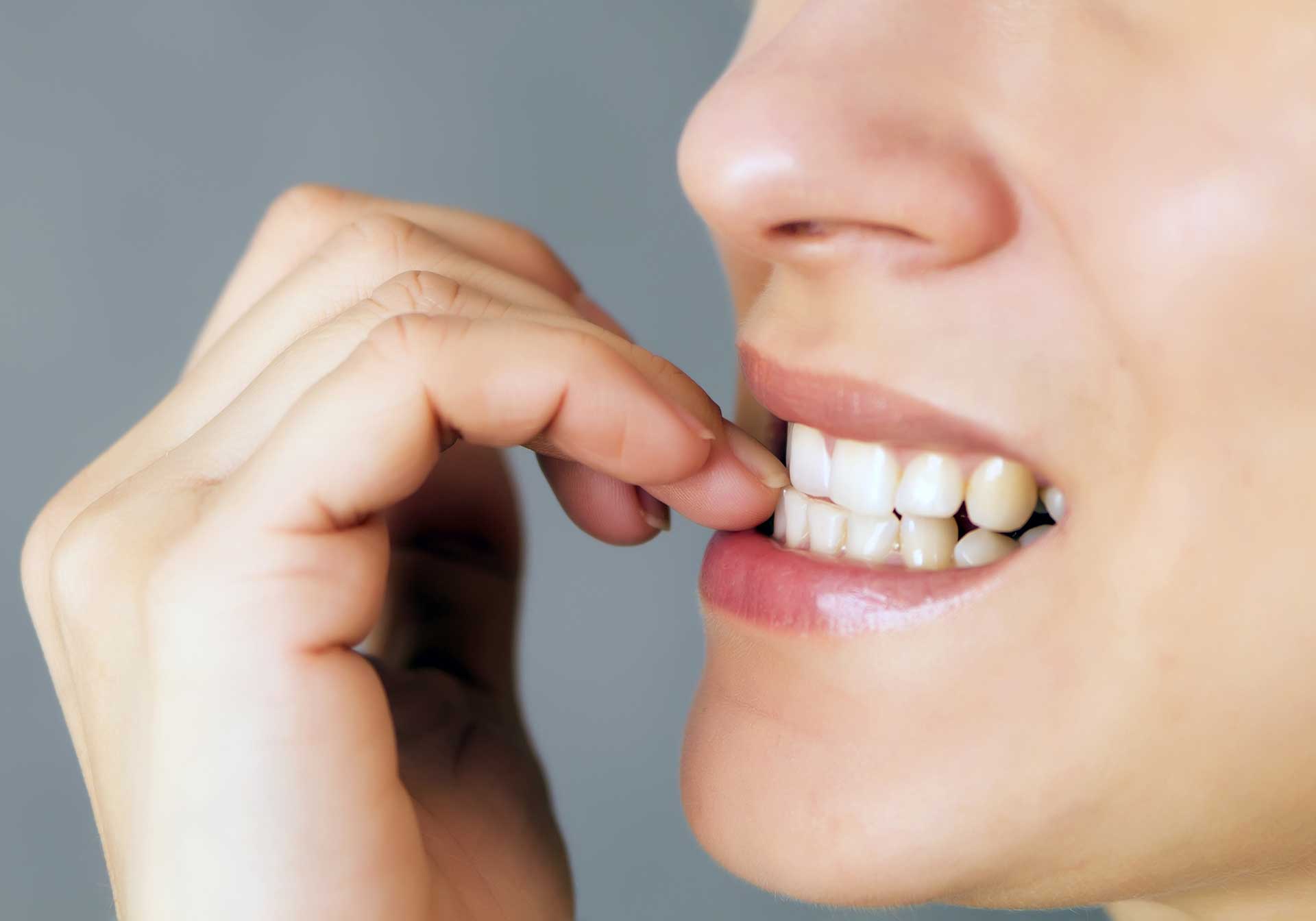 October 17
The Dental Dangers of Teeth Grinding and Nail Biting
Dental health is an integral part of our overall well-being. Consistently maintaining healthy oral habits ensures not only a beautiful smile but also comfort within the mouth. However, certain individuals, whether consciously or unconsciously, engage in habits that put their dental health at risk. Two common culprits in this regard are teeth grinding, known as bruxism, and nail biting. In this comprehensive guide, we will delve into these habits, exploring their origins, the consequences they entail, and effective treatments to safeguard your dental well-being.
Tooth Grinding (Bruxism)
Teeth grinding, or bruxism, is characterized by the clenching or grinding of teeth, often occurring during sleep and going unnoticed by the individual.
Consequences of Bruxism
Tooth Wear: The persistent friction from bruxism can lead to enamel erosion, causing teeth to become shorter and uneven.
Tooth Sensitivity: Enamel wear frequently results in heightened tooth sensitivity.
Jaw Pain and Headaches: Bruxism exerts strain on the jaw muscles and joints, resulting in jaw pain, facial discomfort, and headaches.
Jaw Joint Dysfunction: Prolonged bruxism can contribute to dysfunction in the jaw joint.
Causes of Teeth Grinding
Stress and Anxiety: Bruxism can manifest as an emotional response to periods of stress or anxiety.
Malocclusion (Misalignment of Teeth): Misaligned teeth (malocclusion) can trigger bruxism by impeding normal tooth closure.
Alcohol and Caffeine Consumption: Alcohol and caffeine can heighten muscle tension and stimulation, increasing the risk of teeth grinding.
Genetic Factors: A family history of bruxism may render some individuals more prone to the habit.
Medications: Certain medications, especially antidepressants, can elevate the risk of bruxism.
Sleep Disorders: Bruxism may be more prevalent in individuals with sleep apnea or sleep-related breathing problems.
Immune System Diseases: Specific immune system disorders can elevate the likelihood of bruxism.
Nail Biting
Nail biting, also known as onychophagia, is often associated with stress, anxiety, or boredom-a habit that can detrimentally impact dental health.
Adverse Effects of Nail Biting
Tooth Wear: Nail biting can cause the front teeth to wear down and potentially crack.
Tooth Sensitivity: It has the potential to damage tooth enamel, leading to increased tooth sensitivity.
Mouth Infections: Nail-bitten fingers can introduce bacteria to the mouth, heightening the risk of infections.
Nail Problems: Beyond dental concerns, nail biting can affect the appearance and health of the nails themselves.
Treatment for Teeth Grinding and Nail Biting
Effective methods to address teeth grinding (bruxism) and nail biting include:
Teeth Grinding (Bruxism) Treatment
Night Guards (Splints or Aligners): Specially designed night guards protect teeth from friction during sleep, reducing wear.
Botox Injections: In some cases, Botox injections can relax jaw muscles, diminishing grinding.
Stress Management: Stress reduction techniques can mitigate bruxism, as stress is often a trigger.
Oral Exercises: Dentists or physiotherapists can employ specialized exercises to strengthen and relax jaw muscles, aiding in bruxism control.
Braces Treatment: Misaligned teeth contributing to bruxism may necessitate orthodontic correction or braces recommended by your dentist.
Pharmacotherapy: In select cases, dentists or doctors may recommend medications to manage bruxism.
Nail Biting Treatment
Maintain Nails: Consistently cut and maintain your nails short to make biting more challenging.
Nail Polishes: The use of bitter almond oil or specialized nail polishes can deter nail biting due to their unpleasant taste.
Stress Management: Since nail biting is often linked to stress or anxiety, stress management techniques can be effective in curbing the habit.
Therapy: If nail biting proves to be a persistent challenge, working with a psychotherapist or behavioral therapist can be immensely helpful. They can assist in identifying and addressing the underlying emotional causes of the habit.
By recognizing these detrimental habits and seeking appropriate treatment, you can preserve your oral health and radiate a confident, healthy smile. For expert guidance and support, entrust Dentevim as your dedicated partner in maintaining exceptional dental well-being.